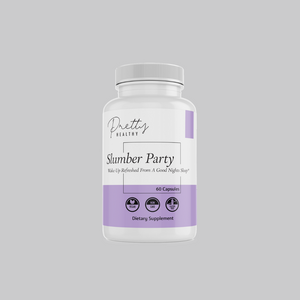 Slumber Party- All-Natural Sleep Aid w/ Chamomile
Sale price Price $25.00 Regular price
Vegan, non-GMO, Gluten free, All-natural, Antibiotic free, Major allergen free

This proprietary blend of all-natural ingredients includes melatonin, chamomile and vitamin B-6.  Specially formulated to aid the body in obtaining more restful sleep, our formula contains relaxing vitamins, minerals and herbs that are pure and powerful. When taken as directed, sleep formula can help decrease feelings of worry and stress while falling asleep and sleeping through the night. Beauty sleep never felt so good! 
How to: For best results, take 2 capsules 20-30 minutes before bedtime with 8oz glass of water.  Due to calming effect, please do not drive or operate heavy machinery while supplements are in your system. 
Relaxing and calming blend, Reduces feelings of worry and stress, Wake up feeling refreshed from a good night's sleep*
Ingredients: Full list of ingredients pictured below
Customer Reviews
07/28/2021
Charity D.

United States
Treat yourself to Slumber Party-All natural sleep aid
I loved it. It relaxed me and allowed me to fall asleep faster which is a huge issue of mine. It didn't make me feel groggy when I awoke. This is a product that I look forward to using. I actually plan the days when I know I'm going to need it most. It's how I treat myself.
07/19/2021
Onyea P.

United States
Well Rested
I love Slumber Party. I sleep good without feeling slow or foggy when I awake. I use it when I've had a long day and my mind is racing. It helps to calm me down and get me settle in to rest. I sleep through the night without waking up. I definitely recommend slumber party and I will be purchasing again.
11/07/2020
Jazz K.

United States
Love
This was my first time trying something like this. I was nervous. However, this has been AMAZING! I felt relaxed when I could feel it kicking it. It was a very soothing journey & before I knew it I was sleep & I woke up the next morning feeling amazing. I really love this and I'm glad that I decided to try it.
10/24/2020
Lauren G.

United States
Quick and Effective
These vitamins do the simple job I'm looking for by helping me calm down and ease in to restful sleep. I take them as needed and usually wake up before my alarm feeling well rested.
08/05/2020
Cierra B.

United States
Great Product
Didn't make me feel sluggish. It was great!
07/22/2020
Jayna H.

United States
Love this!!!
These are great pills for relaxation and sleep!!!!! They worked in about 30 minutes after taking them. I love the ingredients and I don't feel groggy the next morning.