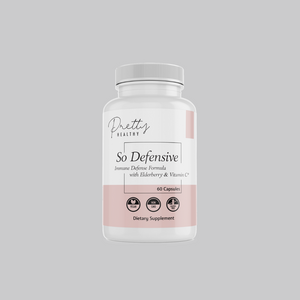 So Defensive- Daily Immune Support w/ Elderberry
Sale price Price $24.00 Regular price
Vegan, non-GMO, Gluten free, hormone free, sugar free, Major allergen free
Our emergency immune defense supplement contains over 10 different immune-boosting ingredients that are in high demand including elderberry, vitamin c, zinc and turmeric.  This blend is scientifically formulated to naturally work together to help boost immunity when you need it the most. We've also added a built-in probiotic for gut health and digestion.  Having a strong immune system is essential to being able to fight off disease and infection and staying healthy.  With so many factors bombarding the body each day, sometimes the body needs support. Listen... the next time someone tells you that you're so defensive, they'll be right! 
How to: Take 2 capsules once a day before you eat.
Supports wellness and vitality, rich in antioxidants, promotes digestive health, skin healing ingredients* 
Ingredients: Full list of ingredients pictured below
Customer Reviews
07/14/2021
Cherisse C.

United States
Good so far
So far I have been taking these vitamins for 3 days and so far so good. No nasty vitamin taste, no nasty smell and definitely don't have your stomach hurting once you take them. I feel pretty good since taking these vitamins.
03/11/2021
Briana A.

United States
Great
These vitamins are really great and I definitely will be re-purchase
12/12/2020
Manaya R.

United States
Awesome
It gave me energy and has cleansed by system.
10/15/2020
Kayla R.

United States
perfect for a pandemic
I love these vitamins. I know they are helping my immunity cuz I haven't had sinus headaches since I started taking them. Another thing I like is that my skin is clearing up on my forehead where I have hormonal acne. I am not sure if it's cuz of this one or the detox which I also take, but I will continue to purchase both.
08/20/2020
Robin L.

United States
I LOVE this vitamin
My overall experience with this daily multivitamin has been better than expected! Since using Pretty Healthy vitamin, my skin is glowing and my allergies have lessen. I purchased a bottle for my daughter who has eczema and her symptoms are starting to clear up!
08/20/2020
Shalom L.

United States
Amazing
Glad I have something to boost my immune system during this time. Also an added benefit with the probiotic.
08/20/2020
James S.

United States
Great for men too!!
Excellent product and customer service! Couldn't be more pleased