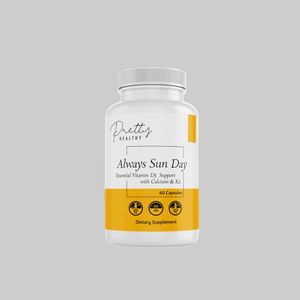 Always Sun Day- Essential D3, K2 & Calcium Support
Sale price Price $27.00 Regular price
All-Natural, non-GMO, gluten free, hormone free, sugar free, dairy free 
Vitmain D deficiency got you down? No, literally... did you know that low vitamin D levels can affect your mood, teeth, cardiovascular system, muscles, energy and skin?! Often referred to as the "sunshine vitamin", D3 is naturally synthesized when skin is exposed to UVB sunlight. It's estimated that over 75% of Black women have an inadequate level of D3 throughtout the year. 
That's why we added this essential vitamin to our all-star line up! What people don't know is that vitamin D has a bff, vitamin K, which maximizes the benefits of vitamin D to make sure the body stores calcium in the right places, like our bones. Annnd speaking of calcium, yes we've added that too! Listen we want you to get all of the benefits D3 has to offer. Simply take one small capsule a day so you can feel like sunshine in every season! 
One thing is for sure with this supplement... Every day is Sun Day! 
How to: Take 1 capsule a day 20-30 mins before you eat. 

60 capsules (2 month supply), Supports bone and immune health, promotes healthy muscle function, aids in cardiovascular health, supports mood, promotes dental health, helps manage blood sugar levels*
Ingredients: Full list of ingredients pictured below