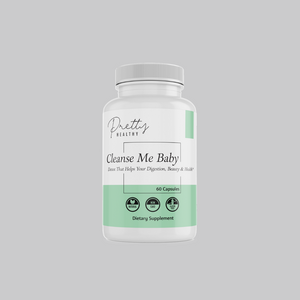 Cleanse Me Baby- Detox for Skin, Liver and Digestion
Sale price Price $23.00 Regular price
All-Natural, non-GMO, gluten free, hormone free, sugar free, Major allergen free
Are you feeling bloated or just in need of a good detox? We gotcha girl!  We fit all of the stuff your skin and liver love into one pill with digestive enzymes that help ease bloating and gas and free your body of toxins that can cause breakouts. It's the daily detox that helps to cleanse your skin, liver, and kidneys of waste. With a variety of skin healing minerals, Cleanse Me Baby is sure to be your go-to product for wellness and skin therapy!
How to: Take 2 capsules once a day before you eat.
Supports healthy liver function, Helps with dark circles under eyes, Promotes overall skin health, Detoxification properties including turmeric & dandelion root*
Ingredients: Full list of ingredients pictured below
Customer Reviews
01/14/2021
giavonna p.
United States
Great Skin
I felt so much better using the CMB! Only thing I didn't like was the aftertaste, but other than that I noticed better skin!
10/15/2020
Chantel W.
United States
Cleanse me baby
Fast shipping and great customer service. Can't wait to try so I can add them to my daily vitamin routine!
10/14/2020
Tiffany W.
United States
Happy customer
I'm so happy about my detox product Cleanse Me Baby! I needed something that wouldn't be harsh on my body but still gave results, well I must say I'm impressed!
09/23/2020
Kayla R.
United States
PMS relief
This really helps with bloating, gas and stomach cramps. A good anti-inflammatory. It's also helps to regulate my irregular periods My last period I just had mild cramps and never felt nauseous. I'll purchase again.
09/04/2020
Aaron D.
United States
Great product!
I love this brand and the way the pills make me feel!! Definitely will purchase again!
08/10/2020
Jazz K.
United States
Love
I'm still using them and trying to observe how they do with my body. So far so good. The packaging is amazing and I love the colors.
07/31/2020
Ira D.
United States
Cleaning me Out!!!
Honestly ever since I've been taking the Detox I've had more energy, which is very important when you have 2 kids Lol. This will definitely be a regular for me including the others.