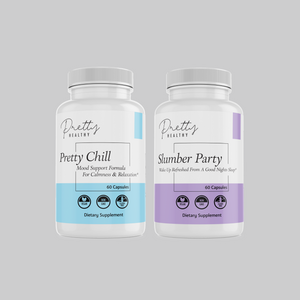 Cute & Calm Bundle- For Less Stress, Calmness & Restful Sleep
Sale price Price $45.00 Regular price $49.00
Help ease your stress, mood swings and anxiety & end the day with a good night's sleep. This bundle was created to help you feel like yourself again.  It's time to relax, relate and release!*  
What's in the bundle: 
Slumber Party- An all-natural sleep aid that supports rest and relaxation.  Wake up refreshed from a good night's sleep*
Pretty Chill- Promotes a positive mood while helping to relieve anxiety and stress* 
Ingredients: Full list of ingredients pictured below 
Customer Reviews
07/15/2021
Wade M.

United States
Amazing Products
Both products work as described. My favorite is Slumber Party. Puts me right to sleep. I wake up feeling energized and refreshed. No groggy or bogged down feeling. I highly recommend both products.