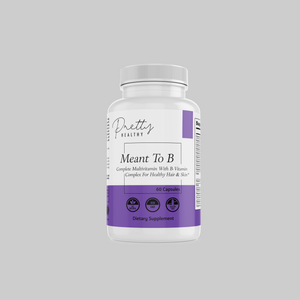 Meant to B- Multivitamin w/ B-vitamin Complex for Skin & Hair
Sale price Price $25.00 Regular price
All-Natural, non-GMO, gluten free, hormone free, sugar free, major allergen free
As women we don't always get the daily recommended allowance of vitamins, minerals and other essential nutrients. Meant to B helps bridge the gap in your diet by offering a blend that caters to your unique needs.  
Fall in love with this formula that offers additional B-complex vitamins for skin, hair and cell support. Yes… cell support! When taken consistently, B-vitamins help create new blood, skin and brain cells. That's why we say pretty starts inside!
Don't you know… the B stands for beauty!
How to: Take 2 capsules in the morning with meal.
Promotes healthy immune system, may help with energy production, mineral and antioxidant formula, red blood cell production, supports healthy hair, skin and nails*
Ingredients: Full list of ingredients pictured below